37 tonne lift !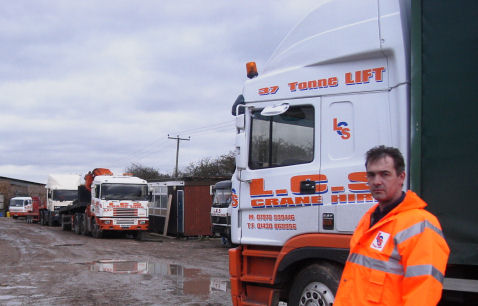 The latest edition to the fleet is six wheeler ridged with a 37 metre crane
with low loader semi trailer. This wagon can load 8000KGS onto its trailer or body. It has proved to be very useful
with a large crane for heavy lifts and is still versatile enough to get into tight areas .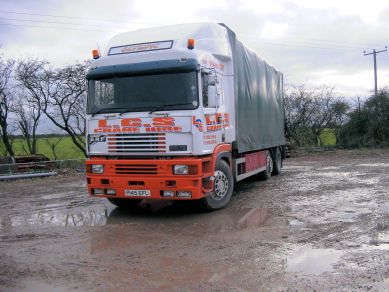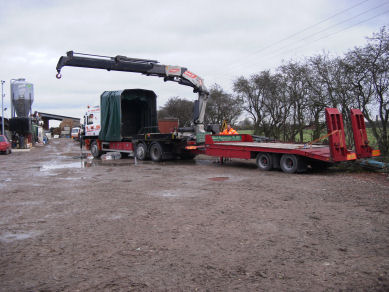 Two curtain siders for general haulage .

40 foot step down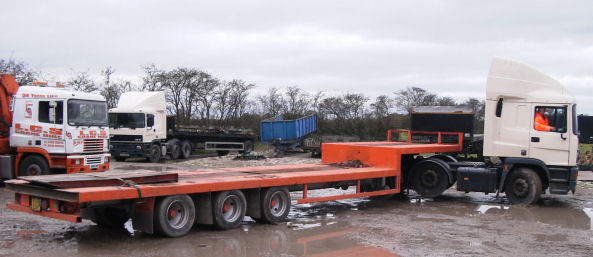 ERF Tractor Unit with 34 Tonne Crane
Added to the fleet in October 2004 to service the increasing demand for bigger and heavier lifts.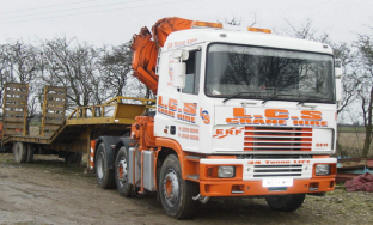 Being an articulated vehicle we are able to to offer the unit with 25, 30, and forty foot trailers with the addition of a low loader which we mainly use for our plant hire division.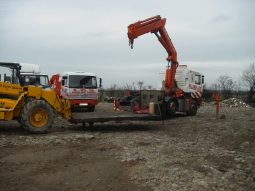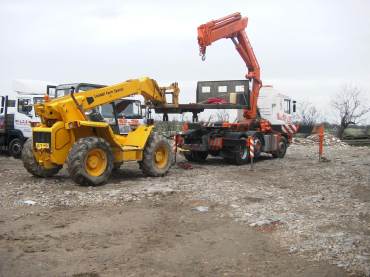 We soon realised the need for a small highly manoeuvrable base unit with the capacity to lift heavy weights.
To that end we designed a 12ft demountable body to fit directly on to the tractor unit.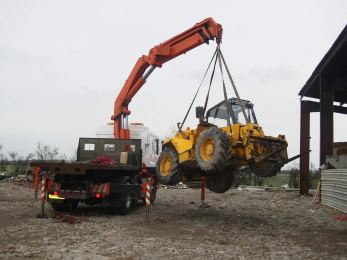 This gives us the ability access restricted areas and with the lift capacity to lift 2.2 tonnes at 50ft makes the ERF both a versatile and a specialised vehicle.

Mercedes Artic
This was the first artic unit purchased, being a small unit with a good pay load of about 14 tonne. This vehicle is useful for getting in tight access because of its size. We primarily use this on our hay and straw division, We can use it with 25 ,30 and 40 ft trailers and also with the bulk tipper shown below.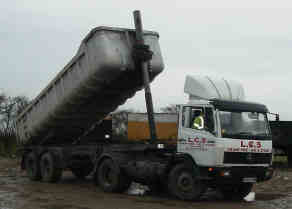 We also can use these low loader with this unit. At fourteen tonne payload it has proved itself to be very useful being more than 2 tonne above the rigid by two tonnes but less than they are large artic.

Rough Terrain Fork Lift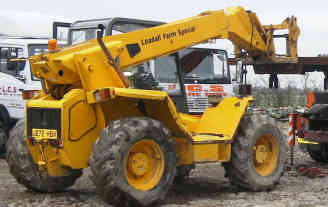 The rough terrain forklift enables us to access and deliver to the the most demanding sites it can lift up to 2.5 tonne and up to 6 meters high . This vehicle can be delivered with your load. It is carried on the low loader. It has a 2.5 tonne lift with a reach of 6 meters.
It has been up mountains down valleys, runways and islands. We will get it there!!